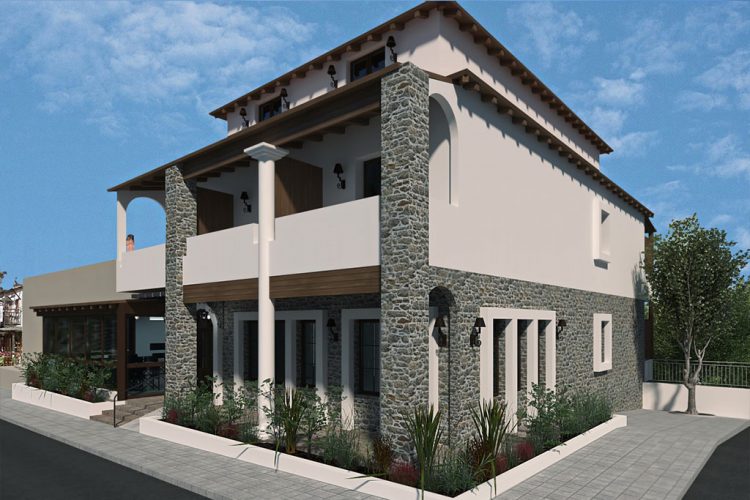 Makedonia is a 2-star hotel, located in the center of the Ouranoupoli village.
Hotel Makedonia – 2-star hotel in Halkidiki Greece
The hotel features all necessary prerequisites for a relaxing and easy-going vacation. A few beaches are within a short distance from the property. More so, exceptional dining and shopping opportunities are nearby. Finally, the Ouranoupoli port, from where you can set sail to discover Halkidiki, is a stone's throw away.
The Makedonia Hotel has double, triple and quadruple rooms on offer, all of them featuring around 20 m². The furnishings are comfortable and the ambiance is pleasant. All accommodation units have balconies, and some of them feature views of the sea.
Furthermore, Sithonia peninsula, Mount Holomontas in central Halkidiki, Byzantine Tower of Prosforio and Mount Athos are within the sight, too. Also, guests of the hotel benefit of free internet access.
Public facilities of Hotel Makedonia are the terrace, which boasts views of the Aegean Sea. Traditional self-service breakfast is served on the terrace. There is also a café in the reception room with TV with satellite channels. Additional convenience offered to the hotel's guests is the boat and car rental service.
Thanks to the hotel's convenient location, all resort's tourist points of interest are several minutes away at most. You can access the organized beach of the resort of Ouranoupoli, featuring sand and pebbles, in a minute or two. A few supermarkets are just around the corner, while a number of taverns and café bars are barely farther.
The major points of interest are also nearby, featuring following distances:
Ouranoupoli port – around 200 meters, several minutes away by walking.
Tower of Prosforio – 200 meters, a few minutes away on foot.
Pilgrims Office (processing inquiries for a visit to Mount Athos, grown-up males only) – 300 meters, several minutes.
Distances and traveling times to some major destinations in Halkidiki by car are:
Thessaloniki Airport – 120 km, between 1:30 and 2 hours.
Hanioti, Kassandra – 130 km, up to 2 hours.
Neos Marmaras, Sithonia – 80 km, up to 1:30 hours.
Ancient Stageira and Olympiada – 50 km, less than an hour.
Ierissos, East Halkidiki – 16 km, 20 minutes.
Photo Gallery