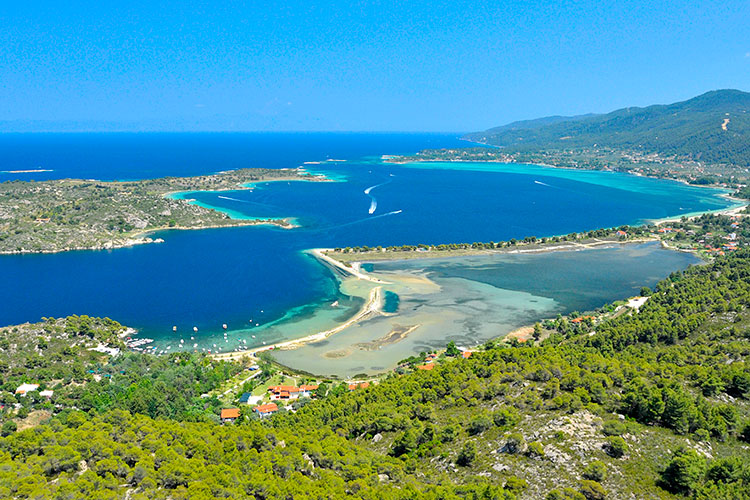 Halkidiki appears in many Greek myths; it is said that the Giant Enceladus was buried in Kassandra. It is also said that Giant Olympus threw a rock forming the peninsula of Mount Athos and Sithonia took its name from Sithon, the son of Poseidon, the ancient Greek god.
The remains of ancient extinct animal species found at Nikiti, Vrasta and Triglia, bear witness to Halkidiki's past.
The findings at Petralona cave prove man's presence in the region, 700,000 years ago – the findings include a human skull, dating back 200,000 years.

The gem of northern Greece, counting 400 km of coastline and rich in natural beauty, couldn't be other than Halkidiki. It consists of three peninsulas, each of them sticking out into the waters of the Aegean Sea.
The Garden of Virgin Mary, or Holy Mount Athos, Kassandra and Sithonia invite you to explore them. The terrestrial part of Halkidiki is covered with virgin coniferous forests and is being crossed by two rivers, the Chavrias and the Olynthios.
Aristotle's birthplace, Ouranoupolis, Ancient Stagira, the ancient city Olynthos, the Cave of Petralona, where the Petralona Skull was discovered, the Sanctuary of Zeus Ammon, the ancient town of Mende, many beautiful coasts, delicious local products, museums, Festivals are only some of the reasons why you should visit Halkidiki.