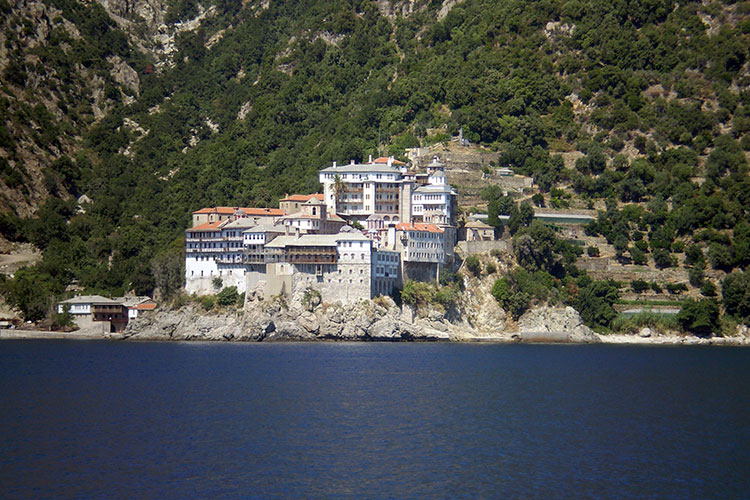 Mount Athos  is the spiritual capital of the Orthodox Christian world, consisting of 20 monasteries, 12 skites, and about 700 houses, cells or hermitages and approximately 2,000 monks.
Moutn Athos – Garden of Virgin Mary
The "Garden of Virgin Mary" is the paradise of the eastern peninsula of Halkidiki! The Monastic State of the Holy Mountain is known to be the main carrier of Orthodox Christianity and holds spiritual glory and great history. It is a religious community with 1.000 years old monasteries, cells in caves or between the rocks, towers, domes, belfries, chants, etc. It is listed in UNESCO's WORLD HERITAGE MONUMENTS.
Boat cruise to Mount Athos
Even though women are not allowed inside Mount Athos, all visitors can admire the magnificent monasteries by cruising around the sea. Daily Boat Cruises, depart from Ouranoupoli and Ormos Panagias at Sithonia.
Avaton
According to the written rules of Mount Athos, it's forbitten for women to enter by any means or stay anywhere in the monastic state. This prohibition is called Αvaton in Greek. Ant breach of the rule is a punishable offence, because Mt Athos is dedicated to one woman whom all the monks honor and pray to; the Blessed Mary.
Visiting Mount Athos
Any Greek or foreign Orthodox Christian who wishes to visit Mount Athos must first get in touch with the Pilgrim Bureau in Thessaloniki (tel. (+30) 2310 833 733) or Ouranoupoli, Halkidiki (tel. (+30) 23770 71 423) in order to obtain the Diamoneterion (visitation permit) which is valid for four calendar days.
Foreigners of other religious affiliations must apply to the Ministry of Foreign Affairs, Directorate of Churches, 2, Zalokosta St, Athens, (tel. (+30) 210 362 6894) or the Ministry of Macedonia and Thrace, Directorate of Political Affairs, Plateia Diikitiriou, Thessaloniki, (tel. (+30) 2310 270 092) in order to obtain an entry permit for Mount Athos.
A maximum of 120 Orthodox Christian visitors are allowed per day, whereas foreigners of other religious affiliations are limited to 14 per day. These limits do not include persons that have explicit invitations from the monasteries.